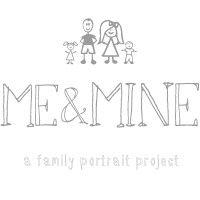 It's that time again for my favourite blog link up - Me and Mine! It's come around so quickly as we wave goodbye to another month of 2015! February has been a good month, it's been just as busy as January, but when you're a parent - when is life not busy?! We've seen a mix of different types of weather this month.. Spring is starting to look like it's not far away as we enter into March but we've had lots of rain and cold too and as we began February we had snow (which is when our photographs were taken - how could we resist the beautiful snowy background?).
So many of you joined in with this amazing link up last month and as a co-host and a huge fan of the Me and Mine project that was great to see. As I said last month, even i

f you're not a blogger - it's not a problem because we now have a Me and Mine

Facebook page

so anyone can join in. We're also now working with

PhotoBox

who kindly offer a

photo prize each month to one lucky person who links up. (Any month you

link up with us, you will automatically be in with a chance of winning.) This month it was my chance to choose a winner and I chose Bex from The Mummy Adventure because I loved the style of her family pictures and how she'd managed to include her bump in them too. She has now had her baby and I am so looking forward to seeing if she will be able to join in with this months Me and Mine as she'll have a new member of the family included in her pics - h
uge congratulations again Bex!
In February I..
Excitingly found out the gender of our second child - we are having another little boy!!
Have watched and seen my bump grow lots! And have felt lots and lots of movement.
Have been so pleased to see that the weather has started to warm up towards the end of this month.
Am looking forward to planned days out and to the two mini-breaks we have planned in before baby #2 arrives later this year.
Have loved listening to music on Spotify. My current favourite track is Elastic Heart by Sia.
Enjoyed a lovely valentines evening with Adam, we ate at Prezzo and then went to see Fifty Shades of Grey.
Have started collecting bits and pieces for baby #2.
Couldn't and still can't believe how fast the month was flying and has flown by!
Started to think about Easter and have already consumed many Mini Eggs as well as Creme Eggs!
Have started thinking lots about Ethan's second birthday even though it's not until April!
In February Adam..
Loved a surprise visit from his brother who came home from travelling for three weeks!
Enjoyed playing his new Monster Hunter 3DS game.
Designed a custom Lego Hiccup from How to Train Your Dragon for his website and eBay shop.
Was pleased when Ethan, who doesn't yet say any words (unless he randomly comes out with something) randomly came out with 'Daddy' when he wanted him.
In February Ethan..
Got his first award/certificate at swimming for being able to use a float by himself.
Has decided to start waking up a little earlier and nap a little less.
Has started copying us a lot more. He copies sounds we make and some of the things we do.
Has become more independent and knows how to get what he wants.
Has ended the month being very clingy to me and being a right little Mummy's boy, which I don't mind at all ;)
Got excited because we went to the park on his trike. We hadn't taken his trike out in ages because the weather had been so horrible.
Seemed to become so much more of a little boy. (He's coming out of his babyhood so quickly!)
This month I am recommending that you visit the lovely
Lucy's
blog - Capture By Lucy. If you're not already a reader of hers then you will love her blog, her photography is particularly stunning! Other than that - I look forward to seeing all your family snaps!
<!-- end LinkyTools script —>