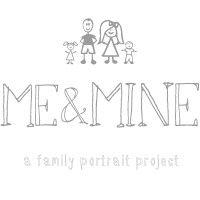 It's our first month as co-hosts for the Me and Mine family portrait project run by the amazing Lucy over at Dear Beautiful and we are thrilled to be on board. This is one of the best link-ups around and if you're not familiar with it already, all you need to do is link up a photograph from January of you and your family all in one photo together. If you're not a blogger, no worries, we now have a Me and Mine Facebook page so anyone can join in. We've also been approached by PhotoBox who have kindly offered to work with us to

offer a photo prize each month to one lucky person who links up. And so if you link up with us for January you are automatically in with a chance of winning a photo cushion from PhotoBox! :)
In January I..
Have been enjoying feeling baby #2 move around in my stomach.
Am glad that work has begun and has nearly finished on our front garden and additional driveway space.
Have been loving watching Homeland. It's such an amazing series!
Have not liked the cold weather. :(
Am looking forward to a holiday to Wales with Adams parents in March.
Can't wait to find out the gender of our next baby on the 5th February!
In January Adam..
Has been busy designing new custom figures for his lego business.. January has seen him complete Lego Lara Croft and a Lego Breaking Bad set.
Is looking forward to going to London to The Game of Thrones exhibition in February (as am I).
Can't wait to play Monster Hunter 4 on his new 3DS he has told me he'd getting next month.
Is overjoyed that we are having a new 55 inch television delivered on Sunday for the living room.
Has been looking forward to finding out if he is going to be a Dad to two boys or a boy and a girl at our 20 week scan in less than a weeks time.
In January Ethan..
Has been doing amazingly well at swimming and it has become probably his favourite thing to do.
Has been a little unwell and had a runny nose which played havoc with nap and bed time, but he seems to be on the mend.
Has become very intrigued by doggy's and woof's when he spots them.
Has started pointing out pictures in his picture book when we ask him where things are.
Has started climbing a lot!
Has been out lots and lots for birthday dinners as lots of family celebrate their birthdays in January.
<!-- end LinkyTools script —>